JPMA Awards
The JPMA Awards started in 1979, and is the 44th in 2022. The purpose of the JPMA Awards is a spread of the PM industry.
Categories of the JPMA Awards are as follows.
・New Products (New Design/New Materials/Process Development)
・New Powders
・Equipment Development
Since 2003, the Grand Prix has been given to an especially excellent product.
Effort Prize has been given to some products with the feature from among a left out of selection products.
2022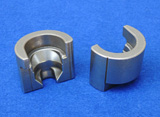 Net shape manufacturing of complex multi-level shaped parking parts with two-pcs simultaneous compacting
SUMITOMO ELECTRIC INDUSTRIES, LTD.

The new ideas of compaction in upside down and simultaneous 2 pieces to avoid seizure supported by optimization of compaction tool with 3D design enabled the perfect net shape, which is highly appreciated. Cost reduction of 50% was achieved by eliminating machining and the simultaneous two-piece compaction increased the cost competitiveness of PM against other manufacturing method, which is expected to increase PM market.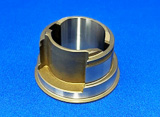 Mass production of high accuracy and thin-wall product for electric VVT
FINE SINTER CO., LTD.

Achievement in high dimensional tolerance of the component having irregular configuration and thin sections which need hardening by exploiting CAE analysis was highly appreciated. The technology which solved the PM's difficult issue and the application in the electric VVT system are considered to increase the potential of PM.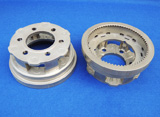 Planetary Brazed Carriers for MT with Improved Endurance Fatigue Strength
SUMITOMO ELECTRIC INDUSTRIES, LTD.

By changing the design from conventional way to the new way which does not use step for elimination of rotation while increasing the bonding interface area and by removing volume in gear sections, the customer's demands of strength and cost were satisfied, which was appreciated. This development showed the PM's ability of solution in design flexibility, reliability of quality and improvement of bonding strength to the customer. It is expected to promote the sinter-brazing technology in e-axle of EV etc.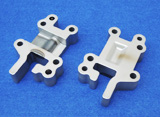 Eco-friendly parking parts with laser hardening
SUMITOMO ELECTRIC INDUSTRIES, LTD.

Significant cost reduction by net shape compaction of integrated two parts into one and by laser hardening on only the necessary section which reduced emission of CO2 not using quenching oil was appreciated. Such improvements both in cost competitiveness and environmental friendliness particularly for rapid growing EV industry are also expected to expand the PM market.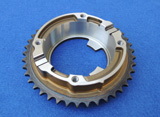 Development of housing sprockets for electric VVT that achieves both high hardness and high accuracy
SUMITOMO ELECTRIC INDUSTRIES, LTD.

High hardness with high dimensional tolerance achieved by introduction of induction hardening in extremely limited area and development of the tailormade grinding wheel which enabled the tight tolerance of groove width and effective range of it were appreciated. These technologies are applicable to other products besides VVT, which may contribute the expansion of PM market.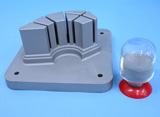 High Thermal Conductivity Metal Powders for Additive Manufacturing
Daido Steel Co., Ltd.

Novelty of high thermal conductivity based on SKD61 (AISI H13) without alloying Co was highly appreciated. Suppression of cracking in AM process and improvement of tool life make it possible to reduce the tool cost. Further recognition and penetration could contribute to the growth of PM industry and the development of tool industry.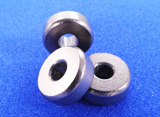 Sintered bearing for Electric Parking Brake motor
Porite Corporation

Analysis of the mechanism of noise issue at low temperatures and the solution for it with combination of improved process and configuration were appreciated. The solution stabilizes the low temperature performance and enables the bearings service at wider range of temperature from high to low. It is expected to be used in various other applications.