Self-Imposed Environmental Active Plan of JPMA
Established on April 21, 2004
Partially amended on December 22, 2005
2nd Revised on September 30, 2010
3rd Revised on September 30, 2020
Firstly
In order to contribute to the global warming countermeasure, JPMA founded an environmental committee, and they summarize members' opinion to make the JPMA self-imposed environmental active plan, which was granted and established at the JPMA permanent director meeting on April 21, 2004.
Powder metallurgy product manufacturing is industries of manufacturing near-net shaped products after sintering metal powder after pressing in dies, and suitable for near-net shaping that provides high yield rate of material powder, integrity of discrete parts, and weight lightening, that PM industries render services of compacting user's machine products, accordingly PM industries as energy saving industries are supplying many kinds of PM parts to automobile and other various industries.
As for their energy consumption, PM industries use substantial amount of energy due to employing electric furnaces at sintering process, therefore they are trying to reduce their energy consumption through daily improvement.
Also though PM industries basically produce little amount of wastes, they are still tackling about reducing wastes further more.
Under these conditions, for the sake of progressing activities about global warming countermeasure, JPMA self-imposed environmental active plan has been made for systematic and continuous activities standing on the basic policy as under.
Basic Policy
JPMA member to progress effectively and continuously following activities, and JPMA to promote positively member's activities.
1) Constriction the global warning
To make efforts to improve their energy effectiveness through whole manufacturing processes to reduce CO2 emission by saving energy.
2) Construction of recycling-oriented economy and society
To make efforts to reduce the final waist volume through positive actions of reusing and recycling plant wastes.
3) Construction of environmental managing system
To construct an environmental managing system through promoting their managing system about environmental countermeasure.
4) Environmental consideration on deploying overseas activities
To deploy environmental countermeasures as same as Japanese domestic plants, considering their local conditions.
Individual Active Plan
Constriction the global warning
Objective
To make efforts to reduce CO2 output level by 10% of 2019 in 2030, and maintain final waste output level in 2019 until 2030.
Ways of dealing with environmental managing system
Objective
To prepare systematic environmental countermeasures to progress positively obtaining the ISO14000 series certification.
Environmental countermeasure on overseas activities
Objective
Overseas active members to progress positively obtaining the ISO14000 series certification there.
Follow up Result
Targets and actual result of CO2 emission consumption rate is as follows.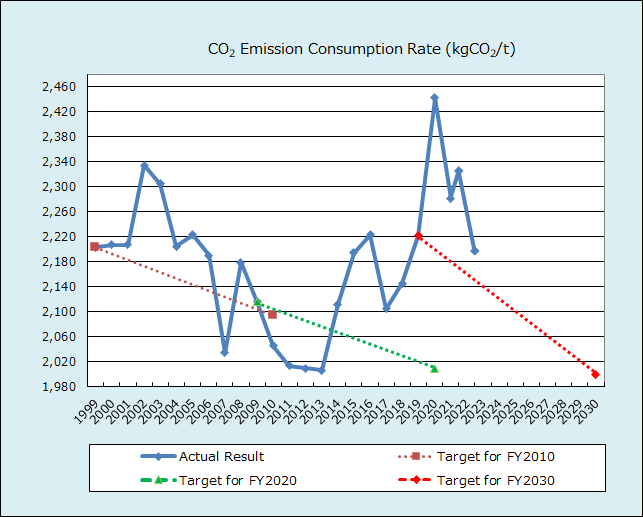 Environmental Logo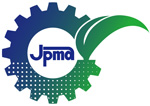 JPMA established the environmental logo in February 2018 for the purpose of widely disseminating that Powder Metallurgy is an environmentally friendly metal working method and the JPMA is working on to reduce CO2 and scrap based on the environmental voluntary action plan.