JPMA Awards
2017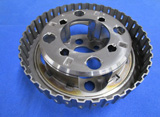 Development of low-cost Sintered Ravigneaux Planetary Carrier
TOYOTA MOTOR CORPORATION

Realization of the stream line including brazing, machining and inspection, and of the large size ravigneaux planetary carrier was considered to be big contribution to the industry. Brazing of PM and wrought material shows the potential to develop more complicated components. On top of them, well considered labor-saving and cost-saving of each equipment may give impact to the industry.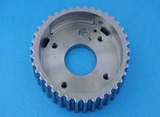 Development of Complex Shaped Pulley with High Accuracy Non-circular gear teeth
SUMITOMO ELECTRIC INDUSTRIES, LTD.

Achievement of squareness and profile for high accuracy in the outer diameter of 100mm, and the commercialization of 10,000/month non-circular-triangle shape pulley which is mainly popular in Europe, were evaluated. This achievement indicates that the improvement of the conventional technology enables manufacturing of the more complicated PM components with the higher dimensional tolerance.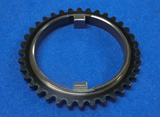 Development of the sprocket drive for low fuel consumption AT oil pump
DIAMET CORPORATION

The achievement of 0.05mm flatness after induction hardening without finish machining in the thin component which tends to crack or distort, was evaluated. Furthermore, 15 to 20% cost reduction made PM change from stamping.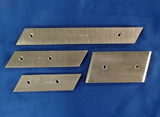 High wear resistant Fe-sintered alloy slider for high speed trains
FINE SINTER CO., LTD.

Outstanding improvement of the performance which realized about 40% longer life along with reduction of wear of the mating trolley wire, was evaluated. As such an achievement is only possible with PM at this moment, the firm PM technology which is difficult to be replaced by other technology is recognized as contribution to the industry.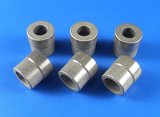 Development of Fe-Cu system Oil-impregnated Sintered Bearing with Excellent High Pressure Resistance and Wear Resistance
DIAMET CORPORATION

Despite a conventional Fe-Cu material, successful material development to satisfy the demanded performance by controlling the microstructure, was evaluated. As increase of Cu addition is expected to increase the difficulty of controlling the dimensional tolerance, selection of raw materials and sintering condition must have been optimized after numerous try and error. The successful control of such difficulty and the expected potential expansion of its application are also evaluated.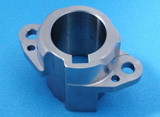 Development of Gasoline Direct Injection Mechanism Part `Guide, Fuel Pump Lifter
SUMITOMO ELECTRIC INDUSTRIES, LTD.

Replacement from casting and satisfaction of the specification with combination of conventional technologies which are easily available in global production sites are evaluated. Although the state-of-the-art product which can be produced exclusively in Japan but not globally is necessary, but it might bring up the problem later in global deployment. Therefore, more new components need to be developed considering the capability of global production.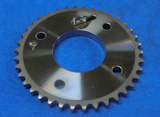 Development of thin sprocket without sizing process
DIAMET CORPORATION

Replacement from stamping with 15 to 20% cost reduction was evaluated. Elimination of sizing operation and magnetic flaw detection in the large component over 100mm were evaluated as the increasing trend of demanding more costly total inspection for QC. This achievement could be a role model for other future development.