JPMA Awards
2015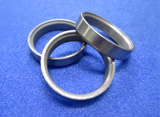 Higher Cost Performance by Reduction of Wear Resistant Material on the Valve Seat
FINE SINTER CO., LTD.

Reduction of the wear resistant layer achieved higher thermal conductivity, better machinability along with less raw material cost and no increase of production process cost. Expansion of this technology is expected.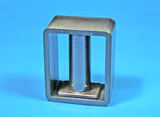 Development of the soft magnetic composite core for high-power output and rectangular-shaped ignition coil
SUMITOMO ELECTRIC INDUSTRIES, LTD.

Split die tooling with highly lubricating coating enabled compaction of the tall component. Taking over a market of electromagnetic steel sheet is expected the future growth of the product.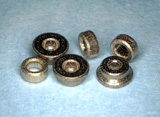 Development of bearing for linear vibration actuator to be used in wearable device
Porite Corporation

Technology of forming fine radius to ultraminiature bearing is highly evaluated. The series production monthly 3 million pieces proved penetration of PM material into the cutting edge market of the wearable terminal.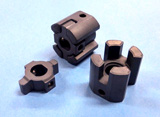 A set of sintered joints for the motor used in valve lift actuator
Diamet Corporation

The challenge to realized high precision steam treated component without sizing operation was recognized. Optimizing compaction tool material and compaction condition minimized the distortion caused by springback, and optimizing sintering method and condition improved the scatter of dimensional change which enabled elimination of sizing process.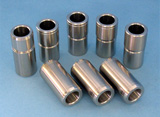 Austenitic high heat and wear resistance sintered material for turbocharger
Hitachi Chemical Co., Ltd.

Wear resistance was improved without deterioration of oxidation resistance by distributing fine carbides in the austenitic matrix met. Because the material met the trend of downsizing of gasoline engine with turbochargers, more penetration is expected.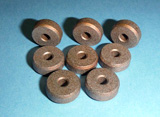 Ferrous sintered bearing material with high permeability and oil content
Hitachi Chemical Co., Ltd.

Improved the friction performance of ferrous bearing material by achieving unconventional permeability enable to expand the applicable field in such as office machine market.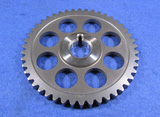 Development of high-density sprocket for automobile engines made by die wall lubrication compacting at room temperature
Hitachi Chemical Co., Ltd.

The die wall lubrication compacting method to coating the lubricating oil using a motion of compaction tooling is the high density technology having excellent productivity, which makes it possible to produce new parts with complicated shape and/or high strength.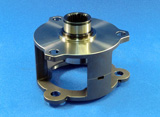 Development of planetary carrier for E-4WD applied with sinter brazing technology
SUMITOMO ELECTRIC INDUSTRIES, LTD.

Changing the joining section opened the higher freedom of the brazing which enabled to meet the high torque specification. Expansion of this application is expected.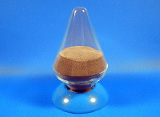 Partially Alloyed Bronze Powder with High Compatibility Suitable for High Sintered Density
Fukuda Metal Foil & Powder Co., LTD.

Bronze powder is partially alloyed to electrolytic copper powder. It achieved high compatibility and high strength simultaneously. Production volume result is appreciated.