JPMA Awards
2018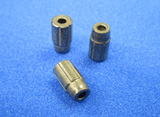 Oil impregnated sintered bearing with 1μm inner dimension tolerance
Porite Corporation

Instead of using conventional rotating sizing, bore tolerance range of 1 μm was realized by only simple ordinary sizing. Thanks to this high precision, application to high precision motor which demands severely low noise performance was enabled. This leads the replacement of ball bearings or fluid dynamic bearing with PM bearing and expansion of the PM market.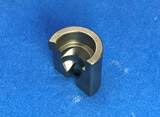 Transmission parts for new-generation HV automobiles with multi-steps taper shape
FINE SINTER Co., Ltd.

Improvement by design-in and structure of compaction tooling made the component having multifunction, which contributed to the customer to reduce the cost and weight of the unit. This successful development showed the superiority of PM components in the parking lock component of the next generation HV. This is expected to have expanded maintenance of PM market.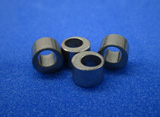 Sinterized eccentric bush use for Motorcycle ABS hydraulic control unit
Porite Corporation

The challenge of applying copper base bearing where normally ferrous structural component is used met the wish of the customer. The adoption of PM component in the ABS system in motorcycles, which is expected to grow, is an excellent contribution to PM industry.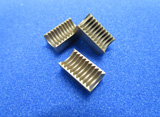 Sinterized screw nut lead used for medical syringe pump
Porite Corporation

Exploiting the characteristics of the oil impregnated sintered bearing, successful replacement from an expensive machined part was achieved. The parts having the similar characteristics are expected in the growing market of small robotics' actuators.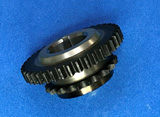 High-density sprocket with low-cost and die-lubricationless compaction
FINE SINTER Co., Ltd.

Realization of density of 7.35 by the conventional compaction and sintering in a mesh belt furnace reduced the cost significantly. Such a competitiveness against other manufacturing methods is expected to expand the market of PM.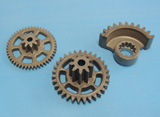 Development of Gears for a Wastegate Valve in a Turbocharged Engine
SUMITOMO ELECTRIC INDUSTRIES, LTD.

Significant weight reduction was achieved by optimizing design of the component, which made PM enter the market of the gear in electronically controlled wastegate valve unit. This is expected to contribute the expansion of the PM market.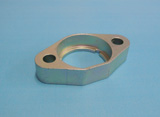 Development of a Pressure Sensor Holder in Gasoline Direct Injection System
SUMITOMO ELECTRIC INDUSTRIES, LTD.

Successful replacement of the part in the gasoline direct injection system by making best use of features of sintered components with cost merit was appreciated. Such an effort of making best use of PM is anticipated to contribute to replace other components and make the PM market grow.