JPMA Awards
2019
Sintering of disconnect parts
FINE SINTER Co., Ltd.
TOYOTA MOTOR CORPORATION

Compaction of ratchet shape with large steps and shape with thin and tall wall was enabled by the improvement of raw material powder and the structure of the compaction tools. The heat treatment ensuring the demanded performance of the waved ball groove was realized by introduction of a laser quenching. Realization of components with highly complex and difficult configuration was highly rated. Conventional PM methods did not accomplish such shapes, but this development in mass production indicates the evolution of Near Net Shape PM compaction technology. Further market expansion of PM by the replacement from other competitive manufacturing processes.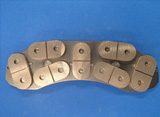 Sintered brake lining for new high-speed railroad vehicles
FINE SINTER Co., Ltd.

The improvement of the brake lining such as better brake performance and wear resistance was realized by the unique equalizing contact pressure mechanism, which contributed to the safety and economics of the braking system. This contribution was highly rated. In particular, the improved brake performance enabled the emergency braking in case of earthquakes, which contributes to the safety of the high speed trains. The market of high speed trains equipped with this brake lining is anticipated to grow.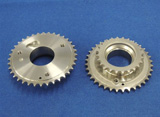 Development of Double teeth Sprockets with the application of Green machining
SUMITOMO ELECTRIC INDUSTRIES, LTD.

Highly difficult intermittent green machining of the outer teeth of the sprocket realized by setting the machining condition based on the consideration of machining stress direction and adoption of proprietary cutting tools was highly rated. This contributed to the reduction of product's cost. Although green machining has issues like chipping of products and etc., this may show the evolution of it. Cost reduction exploiting this technology is expected to drive PM to expand the market.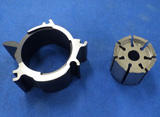 Development of the parts for the variable displacement oil pump
DIAMET CORPORATION

Realization of the high precision components by improvement such as the compaction tools designed by using FEM analysis of compaction process was rated high. In case of the vane rotor having the large height of 30mm, the tight tolerance of the grooves was still achieved without finish machining. As the variable displacement oil pump contributes to improve the fuel economy, it is expected to be equipped in more vehicles and the market is anticipated to grow.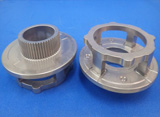 Development of Lightweight iron-based Sintered Carriers that can replace Aluminum products
SUMITOMO ELECTRIC INDUSTRIES, LTD.

Successful replacement from aluminum casting was rated. The weight reduction by aggressive cut-off volumes while ensuring the demand of torsional torque was evaluated. The crucial quality control of jointed components, is conducted by an ultrasonic flaw detection, which is considered to the further improvement of the quality assurance. This is an excellent example of the replacement from cast aluminum component by exploiting the cost merit of PM. Further development to other application is anticipated.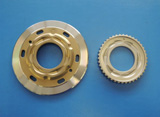 Development of Sinter Hardened 4WD Cam Parts with High Bending Fatigue Strength
SUMITOMO ELECTRIC INDUSTRIES, LTD.

Omitting process by introduction of sinter-hardening and improvement of material and modified shape were rated high. Break through the strength issues of sinter-hardened material may open the possibility of further cost reduction by adding another cost reduction method. Applying this method to similar cases may promote the replacement from other competitive manufacturing methods and grow the PM market.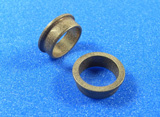 Development of sintered oil-impregnated bearings for Electric Parking Brake (EPB)
DIAMET CORPORATION

Ultra fine shapes like boss root less than R0.2 mm and O-ring protection shape realized by optimizing the tool configurations and improved process was rated high. On top of them, adoption to the component of automotive electrification which is expected significant growth, is evaluated. EPB is said to the first step to brake by wire and its penetration is in progress. The market of sintered oil-impregnated bearing is anticipated further expansion by this successful case.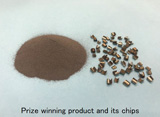 Premixed iron powder with machinability improvement effect in wide range of cutting condition
JFE Steel Corporation

Effective to reduce tool wear in wide range of cutting conditions for raw material commonly used in PM was rated. Sintered steels are often looked upon materials with poor machinability, but this mix improved the machinability significantly by optimized addition of proprietary enhancer. Strengthening the cost competitiveness of PM products by exploiting this raw material is expected to promote market growth.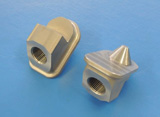 Development of Niobium-added Stainless steel Sintered material for Desensitization
SUMITOMO ELECTRIC INDUSTRIES, LTD.

Reduction of quality risk in case of welding of PM stainless steel by addition of Nb first in Japan was rated. The developed material was qualified and registered in the material standard of an automotive company, which makes it possible to be used as a standard material. Expanding the capability of sintered material, market growth by replacement from other competitive process is expected.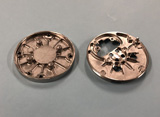 Cost-down by using MIM (Metal Injection Molding) for industrial collaborative robots
FINE SINTER Co., Ltd.

Adoption to an industrial collaborative robot in nonautomotive market by development exploiting the characteristics of MIM was rated high. The cost reduction of a component in collaborative robot is considered to be contributed to the price reduction of the robot, which also contributed to promote the automation. This development is expected to open the way for PM to new markets including small industrial robotics.