JPMA Awards
2016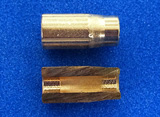 Sintered bearing with dimple on inner diameter for high efficiency motor
Porite Corporation

Forming high precision dimples regularly on the surface of φ5mm bore while keeping the tolerance of the inner diameter by the simultaneous finishing, the friction coefficient of the new bearing comes close to that of ball bearing.
As the cost is half of ball bearing, market growth is anticipated along with the penetration of the high efficient motors.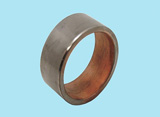 Development of Multi layer Sintered Bearing
NTN Advanced Materials Corporation

The unique dual layered large bushing for construction machineries having sliding performance and wear resistance in the inner layer, and improved strength and ductility in the outer layer, enabled the elimination of the CQT (Carburize, Quenching and Tempering) and finish machining.
Cost reduction of 30% including raw material cost and process reduction.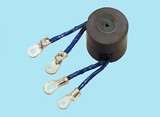 Development of Hybrid magnetic material reactor core for booster
NTN Advanced Materials Corporation

The optimized magnetic performance for the demand of high frequency and miniaturization was realized with a hybrid structure of an amorphous powder compact and an injected amorphous powder with organic material.
Pioneering the medical market is new for PM and the product has potentiality to be used as the core in PHEV or EV.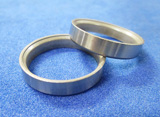 Anti-adhesive wear properties improved matrix-toughened seat, valve material
FINE SINTER CO., LTD. ,TOYOTA MOTOR CORPORATION

Improvement of anti-adhesive wear resistance by means of dispersion strengthening with micro fine hard particles in the matrix along with hard particles is a new and unique idea.
The performance and cost were also significantly improved. Commercial production of 150,000/month has been achieved and further growth is expected.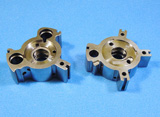 VVT parts manufacturing-line which realized the simultaneous green machining of holes and grooves, attaching two-dimensional bar code.
SUMITOMO ELECTRIC INDUSTRIES, LTD.

Novelty of ideas, single chucking green machining of multiple holes and grooves, synchronized with compaction pressing in the streamline without in hand stock and manual operation, and 2-D bar code inscribing for the improvement of quality assurance.
Large scale (200,000/month) commercial implementation of the green machining.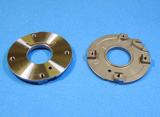 Development of the multistage complicated shape side plate, laser quenched on the non-consecutive surface
SUMITOMO ELECTRIC INDUSTRIES, LTD.

The side plate for VVT with the new spring mechanism was optimized its design for multi-level compaction by design-in effort with the customer. Furthermore, a laser quenching was newly applied on to the non-consecutive surface.
The conversion from aluminum casting to PM contributed to the growth of PM industry.