JPMA Awards
The JPMA Awards started in 1979, and is the 43rd in 2021. The purpose of the JPMA Awards is a spread of the PM industry.
Categories of the JPMA Awards are as follows.
・New Products (New Design/New Materials/Process Development)
・New Powders
・Equipment Development
Since 2003, the Grand Prix has been given to an especially excellent product.
Effort Prize has been given to some products with the feature from among a left out of selection products.
2021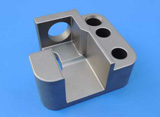 Development of parking part of transmission for PHEVs
SUMITOMO ELECTRIC INDUSTRIES, LTD.

Significant cost reduction by challenging change of design including compaction direction is technically highly appreciated as fit in the design award section. Such an idea in design may enlighten part designers. On top of it, expected growth of market needs in similar EPB system due to the electrification of vehicles is appreciated.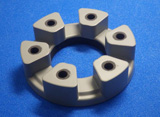 Development of Soft Magnetic Powder Cores for Axial Gap Motors
SUMITOMO ELECTRIC INDUSTRIES, LTD.

Mass production of the powder magnetic cores for an axial gap motor is highly appreciated as it is technically innovative and contributes to PM Industry. Each elemental technology, like compaction, bolt hole machining and electrostatic painting was elaborated and the integration made it possible an epoch-making mass production. Further expansion for motors including automotive market is expected.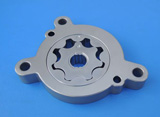 High efficiency electric oil pump parts for HEVs clutch engagement (high pressure application)
SUMITOMO ELECTRIC INDUSTRIES, LTD.

Significant improvement of dimensional precision of the rotor applying 50% reduction of compaction tooling clearance and a new uniform powder feeding was appreciated. The other point of appreciation is the change of the conventional Al die-casting pump body to PM which contributed to solve the thermal expansion gas between Al and Fe and the contribution to expand the use of PM.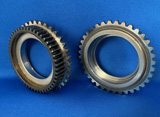 Development of Sprocket Drive for One-Motor Hybrid
FINE SINTER Co., LTD.

Integrated elemental technologies of improved compaction supported by CAE analysis, optimization of single coil single shot induction hardening and the phrasing process were appreciated. Significant cost competitiveness against forging was achieved and more penetration into HV is expected.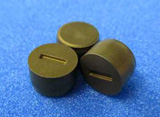 Development of button parts for shale gas drilling tool
Porite Corporation

Pioneer market development of shale gas industry which PM component manufactures are not familiar with was appreciated at first and the idea to exploit low ductility of sintered material as preferable destructivity was highly appreciated. An excellent example of new market development along with cooperation with the customer was valued.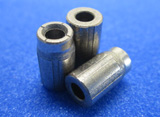 Sintered bearing for suction motor of robot vacuum cleaner
Porite Corporation

Enabling a silent high speed bearing stands for 25,000rpm by combining specific design, material and oil impregnation and replacement of ball bearing were appreciated. Further penetration of the robot vacuum cleaner and application in home appliances which demand silence are expected.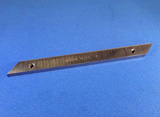 Development of copper-based sintered alloy slider with low trolley wire wear
FINE SINTER Co., LTD.

Material development to satisfy balanced wear resistance and the aggression to trolley wire by optimized hard particles, solid lubricant and matrix was highly appreciated. Actual train test results showed significant improvement and therefore expand sales is anticipated.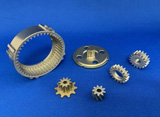 Adoption of sintered parts in EPB units for medium-heavy duty vehicles
FINE SINTER Co., Ltd.

Integration of various processing new technologies realized successful development and commercialization. On top of it, the adoption to medium-heavy duty vehicles is a good example to show up superiority of PM. Those are appreciated.